July, 1996 For the serious 1/32 Scale Enthusiast #2
The Gauge One Collector
This Issue:
GOC Interviews Bockholt!
Happy 1,000th!
Sinsheim Show Report
Special Emphasis - Passenger Cars
"The Gauge One Collector" is published by:
Gallery of Transportation
8340 NW 74th Avenue
Miami, Florida 33166
305-863-3220 Fax 305-863-3213
Visit us at http://galtran.com
Welcome to the second issue of GOC! The GOC will continue try to keep you abreast of "what's happening" in Ga 1 (1/32) world wide. With this issue, we bring you our special interview with the Bockholt family. This spring, the family made their 1,000 th 1/32 locomotive since starting production in the late 1960's. We also have our Sinsheim Gauge One Show report. This is the largest 1/32 Ga 1 show in the world, and features all the large manufacturers and many small makers that never display at the Nuremberg Toy Fair. In response to many reader requests, we will cover the passenger car scene in depth this issue. Many of the passenger car makers showed at Sinsheim (most of them small firms) and we do our best to identify them.
So, the super-serious of you out there, hold on to your seats! I'll bet that you haven't heard of most of these manufacturers! Please write, call or fax me (Bill Box) at the Gallery, address above, with your 1/32 scale wants, desires and opinions. I will send a copy of GOC to all 1/32 manufacturers.
Interview: Bockholt & Söhne
(Editor's note: The Bockholt firm is the oldest active Ga 1 locomotive builder. They began series production shortly after Wilag, the generally accepted first modern Ga 1 builder. Both firms sold their works through Fulgurex. The company was begun by Egon Bockholt about 1968. He is still quite active in the management of the organization, but, he is assisted by his sons, Jens and Wolfgang. I thank the Bockholt family for taking a few minutes from their very busy display booth and layout at the Sinsheim Gauge 1 show June 29 and 30)
Bill Box: First, let me congratulate you on making your 1,000th locomotive!
Jens: Thank you! We are very proud. We made our 1,000th locomotive during the production run of our latest issue, the BR 45.
BB: The Bockholt family has the well earned reputation for producing models of the highest quality. They look beautiful and run extremely well, too. When did you begin?
Egon: I made a very limited run of 12 DR 86 locomotive models in the late 1960's. I did this while still employed at my full time job. I was surprised by the acceptance of these locos and I began full time production with the French 141R in 1972.
BB: What was your previous job?
Egon: I was a trainer for a company that made vending machines. I taught new employees the skills they needed to make the vending machines and I learned my skills that I needed to make model locomotives in Gauge 1.
BB: You make your locos from plate and sheet steel rather than brass. Why is that? For robustness?
Jens: My father was used to using and building in steel from his job at the vending machine factory. So, it is natural that he used those skill to make the models, too. But, our models are robust, yes.
BB: Robust, yet they have delicate detail. Do you solder the locos together?
Jens: We silver solder (also called hard or high temperature soldering) everything that is not screwed together, etc.
BB: It's easy to imagine your factory with rows and rows of assembly line workers, huge machine tool and smokestacks. But, it's not that way, is it?
Jens: No! No! No! There are just nine of us in our shop in Dassendorf (just outside Hamburg). My father, my brother Wolfgang, four employees and two trainees! No big smokestacks, either. My father, Wolfgang and I take turns being project managers. My father is running the BR 45 project, Wolfgang ran the Ae 3/6 series, and I ran the bad IVh program.
BB: Collectors of American type locos will be pleased to hear about your RF&P Berkshire.


Jens: This loco is based on our Nickel Plate Berkshire just as the full size loco was. We have detailed and painted it to match the RF&P version. We made only five.
BB: Well, it's stunning in its light blue and gray livery! With such a limited production, I expect it to be a collector's item soon. Tell us a little about your current model, the BR 45.
Jens: It is a 2-10-2 goods wagon locomotive. We are delivering the models built to NEM standards now and we should deliver the fine scale versions in July or August. We will make about 40 examples total.
BB: What are your future plans?
Jens: We will begin making the V 200 diesel loco of the DR soon after the BR 45 series ends. We will make 20 or so pieces, only. We are thinking about making a few models painted in Polish colors, too. Then we will make in order, the BR 65,a 2-8-4 tank passenger loco by the end of 1997, the BR 132 diesel of the DR, the BR 18 3 (Württemb C) 4-6-2 pacific, and the E 44 electric passenger locomotive. I can't tell you the exact delivery dates on the last four models.
BB: Don't you make goods wagons (freight cars), too?
Jens: Oh, yes. We have made four types. We will re-run three, but, the forth, the Tadgs 959 (a large four bay hopper car) will never be re-run. It is too complicated to be made at a reasonable price. We have only three pieces left. Tell your readers to act soon, there won't be others!
BB: Can I interview you again when you make number 2,000? Thank you for being so patient.
The following is a list of every Bockholt locomotive built in order of production:
DR 86
SNCF 141 R (American built, operated by SNCF)
DB 012 (4-6-2)
DR 96
SBB Krokodil (Swiss Gotthard loco, type II)
DSB Type E
DB 44
SNCF 150 X (German built 2-10-0)
SNCF 241 A (4-8-2)
DR 08
DB E 94 (German "Krokodil")
SBB Te III (switcher)
OBB 214 (2-8-4)
DR 12 (German OBB 214)
C FR 142 (Romanian OBB 214)
bayer. D VIII
DR 98 6
SBB Ae 4/6 (Swiss Gotthard electric loco)
PLM Coupe Vent
DB 23 (2-6-2 tank loco)
BLS Ae 6/8 (Swiss BLS electric)
BLS Be/6/8 (Swiss BLS electric)
Berkshire (2-8-4 Nickel Plate)
Berkshire (2-8-4 RF&P)
PLM 241 C (4-8-2)
P 10
V 20
DR 39
Nord 231 C (4-6-2 as built and later streamlined)
bad. IV h (4-6-2)
DR 18314 (modified bad. IV h)
DB 18 3 (DB version bad. IV h)
SBB Be 3/5 (test loco before Ae 3/6)
SBB Ae 3/6 (Swiss Gotthard loco)
Sinsheim Show Report
Is it a ritual, a pilgrimage, an event or even a "train-in"? I don't know. I do know that on the last Saturday and Sunday of each June there will be a 1/32 Ga 1 show that will be the biggest, most well attended, and interesting of the year held at the Technical Museum at Sinsheim, Germany.
Sinsheim is a small village 10 marks and 30 minutes by train from Heidleburg. The Ga 1 show is held in the railway exhibit portion of this large museum. If you are a train, auto, or airplane aficionado, you would like seeing the museum in its own right. I have yet to see the rest of the museum though, the Ga 1 show is just too consuming! Let's get down to business...
Fine Art Models
Gary Kohs was there showing his latest pieces. He also had a ballot to vote for which European locomotive FAM should produce next. (Talk to FAM or call me if you want to vote.)
He showed the "as built" version of the SWISS SBB Ce 6/8 Crocodile (Type II) in brown. It was impressive. There are even more ball bearings, opening hatches, doors, etc than the previously built green version. If you want to see detail, look at the pantograph. The whole piece is just as well detailed.
The BR 50 (2-10-0) smoothly glided along the test track, through turnouts and cross-overs. The first run of 50 is sold out, but, Gary promises up to 50 more will be built of other versions as production allows. These are first class pieces.
Also on display were two lightweight Pullman passenger cars. One from the PRR Broadway and the other from the NYC 20th Century. The detail is consistent with the diner and the postal car already released in this series. That is to say, excellent. All the interior is there and underbody detail, too. (Most other manufacturers don't detail the underbody.)

This next item really made the display crowded: A full detailed and operating(by radio control!) railroad crane car. This is entirely scale. The gears are scale and work. The motors are ingeniously completely hidden, it appears that the on-board steam engine is doing all the work. While usually considered a US prototype, this crane was shipped to Europe in numbers after WW II to help rebuild the railways there. It was equipped with buffers and served many years. It would take too much space to cover this model accurately. Give the folks at FAM a call.
Reservations are being accepted for the Pennsylvania Railroad's I-1 decapod 2-10-0, New York Central Hudson in regular and streamlined versions as well as the last few brown Swiss Crocodiles.
The Gallery of Transportation is a display agent, not a dealer, of FAM. We will assist the customer to the extent the customer desires at no charge to the customer or FAM. Fine Art Models is known for their quality, fidelity to detail, and value.
Markscheffel & Lennartz
Christian Lennartz was showing the DB BR 38 4-6-0. I believe the run of about 30 pieces is fully subscribed, but, if you are interested, call the Gallery for latest information. Like all of M&L's locos, it's stunning.
Christian also had a pre-production model BR 44 2-10-0. This will be offered in four versions: DR, DB (West German) oil, DB coal, and French SNCF 150 X. This run of about 30 pieces may be sold out also. Call the Gallery and we will check.
M&L is continuing the BR 01 Pacific's series. They are now building four and planning two more DR (East German) versions of this famous locomotive. The prototype and the model are among the most beautiful locos ever made. Call for availability.
M&L is known for their quality and extreme level of detail. The Gallery is a dealer for M&L, so, if you wish to reserve any of the above pieces, receive pricing information, or require additional information, please contact us.
Fulgurex
Fulgurex has a few of its Swiss Ae 8/14 electric locomotives in stock. It is very well made by FM and nicely detailed. Certainly up to the Fulgurex standard. If you are a Swiss railway collector you are running out of time on this one. Aster continues to make live steam locos and a limited number of electric versions of most types. The Gallery is a Fulgurex dealer. Contact us for more information.
Lemaco
The Swiss SBB Re 460 is sold out, but, the BLS 465 is currently available, but going quickly at DM 11,000.
Also available are the last few SBB Ce 6/8lll Crocodiles in green at DM 12,000.
The K. Bay.St. and DRG BR 16 2-6-4 Have been delivered. The Bay version was fully subscribed, but, cancellations have opened up a few slots. The DRG version is going rapidly. The price is DM 17,500.
If you wish Lemaco's DR 243 or its variations, you should reserve soon. This will probably be quite popular once delivered in its many variations. Look for it late this year or early 1997 for DM 11,500.
I think that the black/red DRG BR 06 4-8-4 is fully subscribed or nearly so. The green/red version made in cooperation with Markscheffel and Lennartz is completely booked. It's to be delivered late in 1996 for DM 17,800.
They say that the SBB Re 4/ 4 ll (two pantograph version) should be here in 1997 and they have begun to accept reservations at DM 11,000 each.
The SBB Re 6/6 will cost DM 11,500 and will be delivered before the end of the year. The "Cossonay" green version is sold out, a few of the other types are open. Perhaps this issue will be like the recent Ae 6/6 that was sold out on delivery and never made a product list.
Reservations for the SNCF 241P 4-8-2 are encouraged at this time with a late 1997 or 1998 arrival date.
New to the list is DR BR 132, DB BR 232, and DB BR 234 diesel locomotive series. Again, these are scheduled for a 1997/1998 delivery.
Lemaco is also tempting us with a SBB Ae 4/7 for a future release, but alas, it's still too early to make reservations.
And passenger cars, too! SBB and BLS EW IV Personenwagen in both 1. and 2. class will arrive in 1997 costing DM 3,750.
Passenger cars in planning, but, with unspecified delivery dates are the SBB 1. and 2. class Leichstahlwagen (local service), SBB Apm Bpm Eurocity coaches, SBB Panorama Wagen, DB IC Grossraumwagen, Abteilwagen and Speisewagen.
Lemaco's locomotives are made by Samhongsa, a quality builder. The Gallery is a Lemaco dealer.
Finescale Locomotive Company
...is in full stride with their first piece - a splendid model of the "Duke of Gloucester" pacific 4-6-2. 100 pieces will be made and the subscription list is currently over half full. At current exchange rates, the price is about $6760 plus duty and shipping - a bargain. Also included is a very nice glass case and wood base.
A preproduction "Britannia" class pacific made a surprise appearance. I can't wait for this one! ("But I must... one can not rush art") Detail is consistent with (or even a little better than) the "Duke". Neil Rose says that there will be several names available besides "Britannia" just like the prototype.
Do you have a "Duke" or any Aster British prototype? Your day has been made. FSLC is now making L.M.S., G.N.R., G.W.R., and British Railways passenger cars. They are all brass, including the roof, well detailed and hand lettered. Reasonable, too. A typical car costs 650 pounds (maybe $1,000 US) with the most expensive, the G.W.R. dining car "super saloon" costing 950 pounds.
The Gallery is a display agent of Finescale Locomotive Company, not a dealer. We will assist the customer in every way possible, of course.
Benecken Modelbau
Jürgen Benecken has been producing limited runs of German models for several years. Jürgen's work is very unconventional, but, highly effective. He makes locos and passenger cars in resin and fiberglass. He offers a DB E 120 (DM 2,950), DB E 103 (DM 2,950), and a DB V 221 (DM 1,650) diesel model. I have seen these and they are very, very nicely detailed. All have cab interiors and run well. In fact, several were in constant use on the modular layouts at the show. The prototypes have smooth lines and are rather plain, perfect to be reproduced by Jürgen's construction methods. And his prices are reasonable for the beginning collector.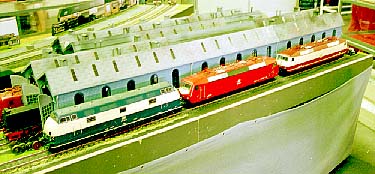 How about an ICE train? Jürgen had the first partially complete example running at the show. Again, the smooth surfaces and flowing lines make this a perfect subject for him. Prices begin at DM 6,500 for a five car train and go up if a restaurant or additional cars are wanted by the customer. Full interiors, of course. I was impressed.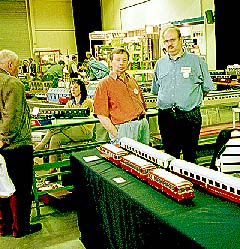 He also makes DB IC passenger cars Apmz (1. Class, red-beige or white-red) and Bpmz (2. Class, blue-beige or white-red) using similar construction techniques. Full interior, no underbody detail (it can't be seen on the tracks) for DM 1,350. He will apply underbody detail for an additional price.
Kiss Modellbahnen
...has made goods(freight) cars and passenger cars for several years. Now, they are about to introduce locomotives. First to make an appearance is the DB E 10 and E 110 electric B-B locomotive. You see this series all over the German Railway system. They had a partially completed pre-production example at their booth. It is all brass construction and, if it has the same quality as their cars, it will be excellent. It will come in at least six paint schemes, take your pick at DM 5,900 each.
The Kiss people say that they will soon begin construction on the BR 64 in DR and DB versions. This is a 2-6-2 tank loco. Also to be built in brass, it will cost DM 6,900.
Regarding passenger cars, the firm makes Eilzigwagens for DR and DB. Offered are 1., 2., 1./2., class cars and a Gepackwagen (baggage). These are not the streamlined cars you see so many of today, but, are more like the "heavyweight era" cars in the US. Brass construction, naturally. All sell for DM 3,500.
Kiss also makes Rungenwagen Kbs 442 (similar to a flat car with side stakes) for DM 2,400, A Muldenkippwagen Omni 51 (hopper car) DM 2,500 complete or 1,500 in kit form, and a Schiebewandwagen (boxcar) for DM 2,600.
Lastly, Kiss is making a Schienenbus. This is a motor powered, four wheeled, railbus for local passenger runs that are lightly traveled. The motorwagen costs DM 3,300, trailer 2,500 and the baggage combine is 2,300. All brass construction.
Karet
...makes a line of German freight cars made from brass that are beautifully detailed. These include flat cars with stakes and hopper cars. Prices range from DM 3,625 to 4,650.
Pläcking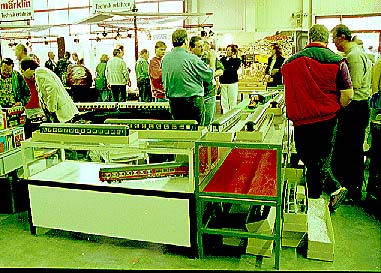 This firm specializes in modern German passenger cars made with stainless steel bodies and plastic roofs. From the list of products, they must have every modern type made! There are far too many to list here. I will be glad to fax the list to anyone who wants a copy. The cars are nicely done and have interior detail. Underbody detail is limited to that you can see when the car is on track. Prices range from DM 990 to 1,750 with an "average' price for a coach of DM 1,290. These cars look great.
J & M
...has been making passenger car models of the world for years and many consider it the standard to which the others are compared. The English company makes their cars of brass except the roof which is plastic. Passenger cars from the 1920's to 1960's are their specialty. They have Swiss, British, German, CIWL and even American cars (the latter on special order only). The cars have interior detail, but, fairly plain underbodies, especially if it could not be seen unless the car is turned over. Again, the list is much too long to be included in the newsletter, but, I will be glad to fax anyone interested the list. Car prices range from DM 1,345 to 2,725.
Hegob
This little company makes freight cars, primarily of German prototypes. I do not have their complete list (I will endeavor to do so), but, the quality that I saw was outstanding. They offer many freight car castings and kits, if you are into that! The cars are all brass, of course.
Henke Kleinbahnen
...is introducing a resin model of the four wheeled Schweineschnauzchen ("Hog Noses"!) small passenger railbus costing DM 1,400. Yes, it really looks like a short passenger car with a "hog nose" (motor/radiator unit) at each end.
P. Schaefle
Here is another little company making great looking models, this time from Switzerland. HPS makes models of the Ce 4/6 and Be 4/6 (electric powered coaches for short runs) in brass. They also make SBB passenger cars BC4, C4, B 2, AB for between DM 1,500 to 2,300.
Gerard
...makes a the tiny Pt 2/3 (2-4-0 tank) in all brass. You can even order it in kit form, if you wish. If ordered completed, it is available in either green or black. This is a fine, delicate looking model priced at DM 5,900. Gerard also offers a resin model of the German E 44 type loco. This model looks as good as many brass pieces that I have seen. All the running gear is brass and steel. It is available either built up or in kit form. You craftsmen out there can have a fine looking model that you build yourself. Assembled, the price is DM 3,625 or DM 2,900 for the kit.
Bloch & Preiswerk
...displayed their Re 4/4 series II and the Re 6/6. Cyrill Bloch showed the newest of the line: a BLS Re 4/4. This is not a repainting of the SBB Re 4/4. The BLS version is significantly different. Cyrill says that they will have the Ee 3/3 (electric side-rod switcher) in SBB or BLS versions this fall. B&P make their locos from brass sheet and plate and they are very well detailed and finished.
Cyrill also had the first examples of the B&P passenger car series. They intend to produce SBB Eurocity 1. and 2. Class coaches along with a restaurant car and EC-Panoramawagen. You can expect the first deliveries late summer or early fall.
How about a rumor? B&P makes the Re 6/6 currently. Did you know that the first two were test units and had a hinge in the middle for "vertical curves"? The testing program showed that the hinge was not necessary and the series was built sans hinge. Only these two locos run to this day in routine service with the hinge. B&P is negotiating an exclusive agreement with a dealer to reproduce this version in very limited quantities (5 to a maximum of 40) as demand warrants. If you are interested in a unique model that will undoubtedly never be reproduced, call the Gallery for the latest "skinny". Delivery? "Who knows, but, sooner than you think." according to an inside source.
Special "Orient Express" Report!!
Renzo Dottori
As reported in the last issue, Renzo makes all the cars of the magnificent, teak, Orient Express train (circa 1904). Words cannot describe the beauty, fidelity, and artistry that Renzo applies to each car! He has recreated the elegance and sophistication of the original "Orient Express".

Every detail is there, including ceiling decoration, fantastic interior detail, and even a few passengers realistically painted by a miniatures artist. Each wood part of the car is made from teak and other exotic woods with a special manufacturing technique that assures that the woods remain straight and true. Renzo is also an accomplished model loco builder in brass. He says that working in brass is simple compared to working in wood, using his technique. He spends an average of 500 hours on each model!!! He will make the entire train of five cars over the next several years. The Gallery will have one restaurant car for sale in August. Cost: US$11,500 as the dollar stands now.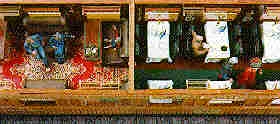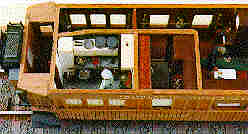 After the cars are issued, Renzo plans to build the Austrian 4-4-0 that often pulled the Express through this alpine country. He says that it will be made in brass ("Easy" says Renzo) and built to the same level as the cars. This one will be special!
The Gallery is proud to be the exclusive American dealer for Mr. Dottori. Please contact us for reservations and pricing.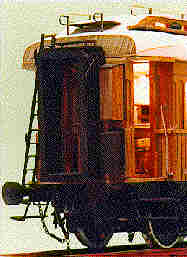 The Gallery needs:
Fine Art Models GG-1 #4800 "Rivets"
Bockholt French 241 A (4-8-2)
Bockholt French 241C (4-8-2)
Bockholt BR 05 (all versions)
Markscheffel & Lennartz DRG 52
Markscheffel & Lennartz BR 41
If you have any of the above for sale, please contact the Gallery.
Did you know that...
...Besig sells beautiful, scale German signals and lights? How about a diorama?
... the Gallery of Transportation has more Ga 1 1/32 scale locomotives and cars on display for sale than any firm in the world?
...the Gallery buys and sells discretely and in confidence, single pieces or entire collections?
... the Gallery has model automobiles, too! Only the best, just like our Ga. 1 offerings.
Next issue: I have no idea when the next issue will be published. The Ga 1 scene tends to change right before a big show. And that's Nuremberg in early 1997. Hopefully, there will be enough to report to warrant another issue in September or October. You will read about the latest Ga 1 news and events, of course! If you are experiencing the dread "Gauge One withdrawal syndrome", contact the Gallery for your late breaking fix. We are in constant contact with all the major manufacturers.
We will include an update on Row & Company, specifically their locos and SP Daylight Train. If you just can't wait until then, please call us for the latest news.
The Gallery of Transportation would like to thank you for your support. Feel free to copy this newsletter and give it to a fellow collector. Call or fax if the Gallery can be of assistance.
Return to Home Page