Page 1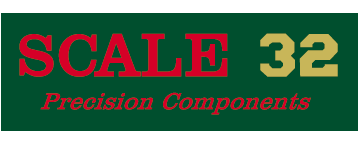 All parts are accurately sized for Gauge #1 (1/32) scale.
These are standard parts that you can use for scratch building U.S. locomotives
especially USRA locomotives
Each part is cast in brass (unless otherwise noted) and beautifully detailed.
All parts are delivered "on the sprue" to keep costs down. Each requires a little clean-up.
Images below are not to scale.
Click to see Larger Image

Description

Part #

Price

Each

Handrail Stanchion 6"
HR 6
.80
Handrail Stanchion 10"
HR 10
.80
Handrail Stanchion 11"
HR 11
.80
Nathan Starting Valve
NSV 1
3.50
Pyle National Headlight
PNH 2
6.50
Headlight Bracket
HB 21
3.00
Washout Plug
WP 4
1.25
Pipe Fitting - Y with cover For 093" dia wire
PFYC 7
1.75
Pipe Fitting - Tee For .093" dia wire
PFT 8
1.75
Pipe Fitting - Tee for .070" dia wire
PFT 9
1.75
Pipe Fitting - Tee for .062" dia wire
PFT 19
1.75
Pipe Fitting - Cross Over For .125" and .093" dia wire
PFC 12
2.00
Pipe Coupling Large .125" dia wire
PU 14
1.00
Pipe Coupling Small .125" dia wire
PU 15
1.00
Pipe Coupling .093" dia wire
PU 16
1.00
Pipe Coupling .080" dia wire
PU 17
1.00
Pipe Coupling .062" dia wire
PU 18
1.00
Bell Assembly
BA 20
6.00
Lagging Clamp
LC 3
.80
Pilot Coupler Pocket
PCP 5
3.00